This guide will help you Manage your booking, if so desired.
 
You will need to know your Order ID, which you will find in the confirmation e-mail we have sent you, and the e-mail address you have provided during the booking process.
To start the process, open the homepage of  www.xlnstransfer.com
At the top of the page, access the link "My Booking"
In the fields appearing on your screen, please fill in your Order ID on the left, and your e-mail on the right.
Click on "Log In" and if you have filled in all the requested details you, your detailed booking will be displayed.
At the bottom part of the page you will find a form (Your Request), in which you may include all the changes you wish.
Click "Send Request"
 
Your request has been sent to our company and is being processed. 
At XLNS Transfer Thessaloniki we will process your request and will do our best to make it happen.
XLNS Transfer will send you an e-mail with all the details of your order, which will show if the requested change has been accepted. Each modified element will be marked with an asterisk, or displayed as additional item at the end of the booking.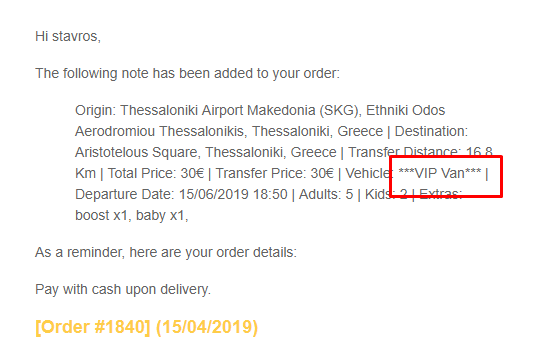 This e-mail is the confirmation of your modified order. This e-mail cancels all the previous ones, including the initial confirmation e-mail.
 
* If you do not receive an e-mail with the change you requested within 48 hours, please contact us by phone.
 
* If you do not receive an e-mail with the change you requested, the change has not become effective.
 
The time needed to respond to your request may vary, but we do our best to be as fast as possible.
 
All changes should be requested at least 36 hours before the scheduled pickup time. If you do not have this time, please contact us by phone.
 
The XLNS Transfer Thessaloniki team will try to satisfy your needs in the best possible way.