Thessaloniki transfer to Halkidiki
Halkidiki is a special summer destination. Halkidiki has attracted more and more people in the recent years who want to combine its beautiful beaches with its unique landscapes.
It is located next to Thessaloniki and the Aegean Sea. There are formed three peninsulas in Halkidiki which are famous thanks to their fairytale beaches. Greece ranks second in the world in blue flags for its beaches and Halkidiki maintains a special place.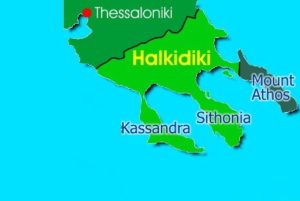 Halkidiki gives the visitor the opportunity to try something new during his vacation. A few examples are sailing in the Toroneos Gulf, diving lessons, cave trips and Mediterranean gastronomic delights.
Halkidiki is ideal for family holidays with children. It has safe beaches and many activities such as water sports, excursions, sports tournaments and horse riding.
Where can I go to Halkidiki?
Halkidiki gives you the opportunity to visit other destinations in Northern Greece. Thessaloniki is worth more than a day to explore. There are museums, Byzantine monuments, sights abound and entertainment venues to enjoy your evening. 
Which places to visit in the 1st finger of Halkidiki?
The peninsula of Kassandra offers you many choices for your holidays as it has some of the most beautiful and famous beaches in Greece! 
What can I do in Sani?
Do not miss the chance to visit Sani. Sani is one of the first places you will come across during your vacation to Halkidiki. There are beach resorts, five-star luxury hotels and cozy restaurants. This is your chance to sample seafood and spend time with your family. Sani can promise you evening entertainment! Beach bars in Greek and foreign music and cocktail nights will be charming. Sani also hosts one of the most famous art festivals in Greece, the Sani Festival, where it hosts artists from all over the world. 
There is a diving center for our little friends that can take lessons! Tennis courts and Sani children's camp events can accompany them in their carefree times.
A unique experience for the whole family is visiting the Sani wetland and the Stavronikita Tower! The wetland will fascinate anyone who loves nature and wants to know it. Do not forget your binoculars, as the wetland houses more than 200 species of birds. Your camera is essential to capture the famous flamingos! Bicycles and hiking excursions as well as educational games are made at the wetland. 
Above the tower of Sani you can see the whole Thermaic Gulf and Mount Olympus! It was built in the 14th century on the hill that is said to be the acropolis of ancient Sani. The view is unique and creates an idyllic atmosphere for the nights held by the Sani Festival. 
Is Polychrono nice?
Polychrono lies on the other side of the peninsula, a few kilometers from Kallithea. Polichrono enjoys a unique location that combines a deep blue sand and pine forest.
Polychrono is suitable for a cheap and relaxing holiday with your family. The walk to the village's pedestrian street and then the traditional fish taverns will give you moments of delight.
 If you are looking for some action, water sports like jet skiing will surely shake you. For bike lovers the visit to Lake Mavrabara will be special. Lake Mavrabara is next to the mountain and figures a unique landscape. 
In the Folklore Museum of Polychronos you will be able to get to know the life of the locals and get a taste of the local traditions.
Where to spend my vacation on the 2nd finger of Halkidiki?
Are there beautiful beaches in Vourvourou?
You will find Vourvourou after Panagia Bay and Fteroti. Beachfront settlements, exotic beaches and the shade of pine trees next to them make up the landscape of Vourvourou.
Boating and visiting the island of Diaspora is a top choice. You will find an earthly paradise just minutes away from your residence. There are enchanting beaches, warm sea, such as Karydi beach, where pine trees reach the coast! 
A few kilometers outside Vourvourou lies the village of Agios Nikolaos. A tour of the picturesque alleys and traditional taverns promises you an unforgettable evening. 
What can I do in Sarti?
One of the places to visit in Sithonia is Sarti. Sarti is located on the side of the peninsula, which overlooks the bay of Mount Athos. This is where you will have the opportunity to get in touch with Mount Athos first. 
The beach of Sarti has emerald waters and is awarded a blue flag every year. Next to Sarti are the Kavourotryps, the beach of Achlada and Plataniitsi with crystal clear waters for endless dives.
It features countless beach bars and nightclubs for entertainment. The water skiing, sea kayak and surfing will add another dimension to your vacation. 
Can I go to Halkidiki 3rd finger?
How do I get to Mount Athos?
Ouranoupolis is the last village you will find before Mount Athos. Ouranoupolis gives you the opportunity to get to know the Holy Mountain. The only way to get there is by ferry departing from Ouranoupolis port to Daphne. Group women who are not allowed to visit it can get to know it through organized cruises. 
A visit to the Tower of Prosporion is a must. The site also serves as a museum, and often hosts exhibitions. Photos and postcards will bring you a pleasant memory of your trip.
You can trust XLNS Transfer Services for your economical, fast and timely transfer from Thessaloniki Macedonia Airport to the tourist resorts of Halkidiki. You can choose the destination and vehicle for your transfer via our website.